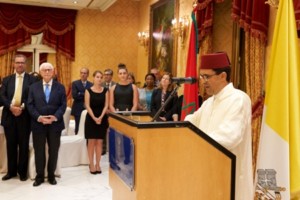 Rome, 07/08/2018
Once again, Easy Diplomacy had the honour and pleasure of organizing the National Day Reception of the Embassy of the Kingdom of Morocco to the Holy See.
July 30th is one of Morocco's most important days, also known as Throne Day, and celebrates the anniversary of His Majesty King Mohammed VI enthronement in 1999. It is also an occasion to praise the attachment of the Moroccan people to their King and the Country's unity.
As H.E. Ambassador ARRIFI said during his speech: "The Moroccan monarchy, as you know, is one of the oldest monarchies in the world, going back more than XII centuries. Morocco is a Constitutional Monarchy, the 2011's Constitution strengthened the democratic system and emphasised the multicultural and multi-religious character of Moroccan society."
For such a remarkable day Easy Diplomacy created a tailor-made event designed around the needs of the Embassy and their guests.
The concept aimed at highlighting the importance of the anniversary and, at the same time, entertain all guests in the best possible way. We selected a wonderful venue in the heart of the Diplomatic Rome, took care of the set-ups, and curated the communication as well as little yet prominent details such as the new hand-sewn flag of the Holy See.
The special menu designed for the event was combined with a Moroccan tea and sweets corner according to the host Country traditions.
Special thanks to the Ambassador ARRIFI and the whole Embassy Staff for this successful collaboration.
* Click here to have a look at some of our latest events. And do not forget to follow us on our social networks!
The Easy Diplomacy Team