Solutions for any needs. For the Official, the Embassy, the Country.
Today, more than ever, Diplomacy faces all kinds of obstacles, even in Italy.
Foreign Diplomats need an interlocutor with problem-solving ability if they want to achieve the objectives established within their Mandate and build a solid foundation for new ambitious projects.
Anyone who turns to Easy Diplomacy knows that they can count on an effective diplomatic and business network: high profile consultancy and planning, able to satisfy any needs, provide professional support and open the right doors to achieve the proposed objectives.
Facilitators as a Mission. Over time, we have prepared the soft ground where Diplomats can safely land from day one in Italy. We have removed any obstacles and hindrances in terms of bureaucracy, language, and operations.
After the pandemic outbreak, each country's priorities have been reconsidered.
That is why our company has strengthened and better adjusted its consultancy services.
We have paved the way for foreign Diplomats in Italy for years.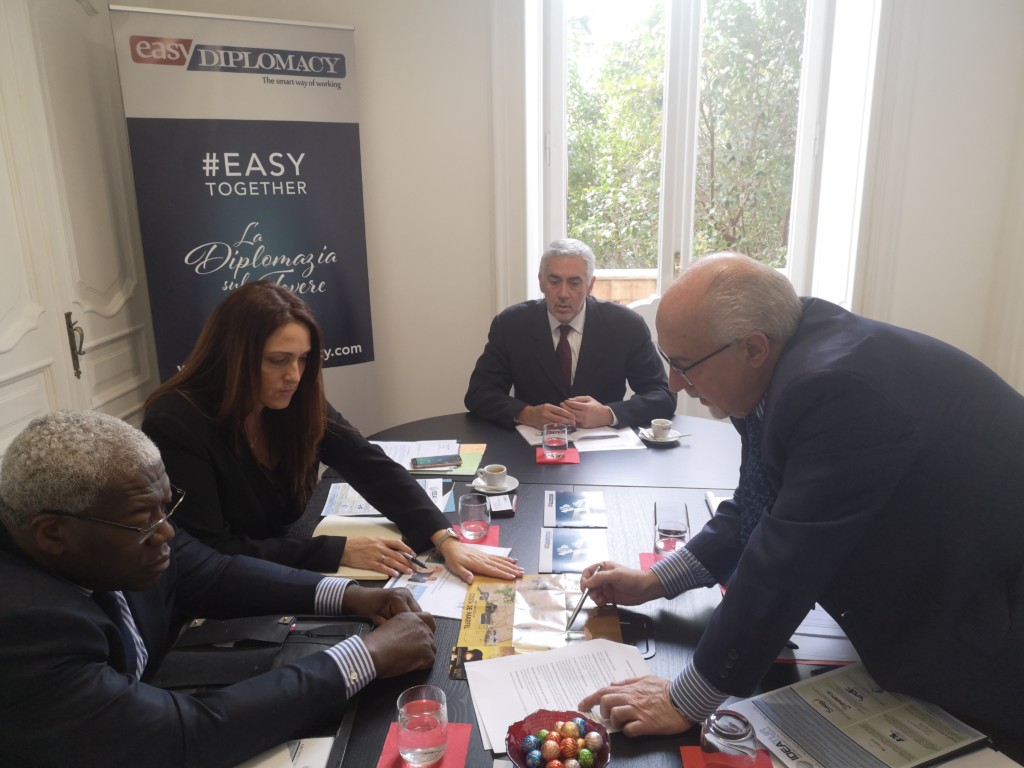 How We Work
Easy Diplomacy is built around a network of professionals and companies with varied backgrounds and a high level of competence in economics and management, aimed at creating synergies and providing tailored-made Consultancy to each Representation or Official.
We work firstly as Consultants, listening to the client and analysing all their needs.
We act, when needed, as Project Manager, Coordinator and direct connection between Embassies and other parties.
Our Strategy
For this purpose, we create Teams of Professionals for each Institution, Official or Project with the goal of developing even more effective strategies, especially if the aim is to improve the Image and Reputation of the Country in Italy and worldwide, fostering its Recovery and Growth.
Main Consultancy Areas
 TAILORED CONSULTANCY
---
A good analysis and an appropriate strategy start with an initial face-to-face Consultancy to know the needs and service priorities (work organization, training, administrative management, etc.). The Professional, together with the Embassy contact people, identifies the macro areas of intervention as a starting point to develop a Tailored Proposal.
COUNTRY REPUTATION AND DEVELOPMENT PROJECTS
---
COUNTRY BRAND MEASUREMENT
We have developed a Format to calculate the Country Brand in order to measure the opinion and the perception that Italians have of your Country. The Analysis will also show: the strengths on which develop the Made in of your Country in Italy, and the first step for an effective Communication Plan.
COMMUNICATION PLAN
We deal with Country Branding to promote the identified Country Brand. We implement marketing techniques aimed at improving the country's reputation at international level, increasing the country brand equity to attract foreign investors, tourists, people.
The plan includes Press Office, PR activity, Web Reputation and Social Media, Digital Communication (NFT and Travel Podcast), big Events levitra brez recepta.
COUNTRY DEVELOPMENT PROJECTS
We elaborate Territorial Marketing Projects to relaunch destinations in order to help territories grow, raise awareness of their potential, and stand out from the global competition. We deal with Destination Management Plans, Familiarization Trips, studies of destination positioning, benchmarking and pricing analysis, socio-economic evaluation of flows, development of new touristic products and itineraries, training programs for entrepreneurs and managers in the sector.
Business Attraction Programs
We elaborate strategies to attract small and medium Italian companies that want to internationalize.
We deal with research and selection of companies by sector, B2B between Italian and foreign companies, study trips or training of foreign entrepreneurs at Italian companies, creation of business delegations.
How We Reach Goals
listening to understand our client's needs thoroughly
analyzing the objectives to be achieved
drawing up the strategic guidelines of an authentic project
implementing an operational plan, detailing methods, timeline, and achievements
monitoring and coordinating the whole project to make sure that the established road map is followed.
Our strenght is the passion that drives us to accept any challenge and work with determination. We play an active role in the projects that we build. We work on the field at the Officials' side until we reach the goal and our partner is fully satisfied.
Our values: reliability, professionalism, and discretion.
We are ready to accept the challenge of building the future together with the Diplomatic World.