How to build authentic, effective and long-term projects for the PROMOTION OF YOUR COUNTRY in Italy? How to identify and promptly contact the right interlocutors?
During their mandate, Diplomats have the following main objectives:
Promote a positive image of their country and encourage bilateral relations
Promote the birth and development of the business for the benefit of their national economy, attracting tourists and investors
Create long-lasting projects that do not end with their mandate, but rather will continue to develop.
In a short time span of 4 years on average, together with the fact that you are moving in a foreign country, being able to carry out effective projects is not at all simple. One of the main obstacles is the dense bureaucratic network of offices and institutions, too many dealing with the same things! And no one really incisive.
The main question that frequently arises is how to bypass all this and accomplish the following goals more quickly:
Rapidly identifying the right interlocutors in the cultural, commercial and religious field
Using trusted communication channels to promote a positive country image, while highlighting business opportunities, to raise interest in its culture and tourist destinations among decision makers and public opinion
Draw up an effective strategic plan, starting from priorities
Easy Diplomacy Solutions for Tourism, Economy and Culture
We create #authentic projects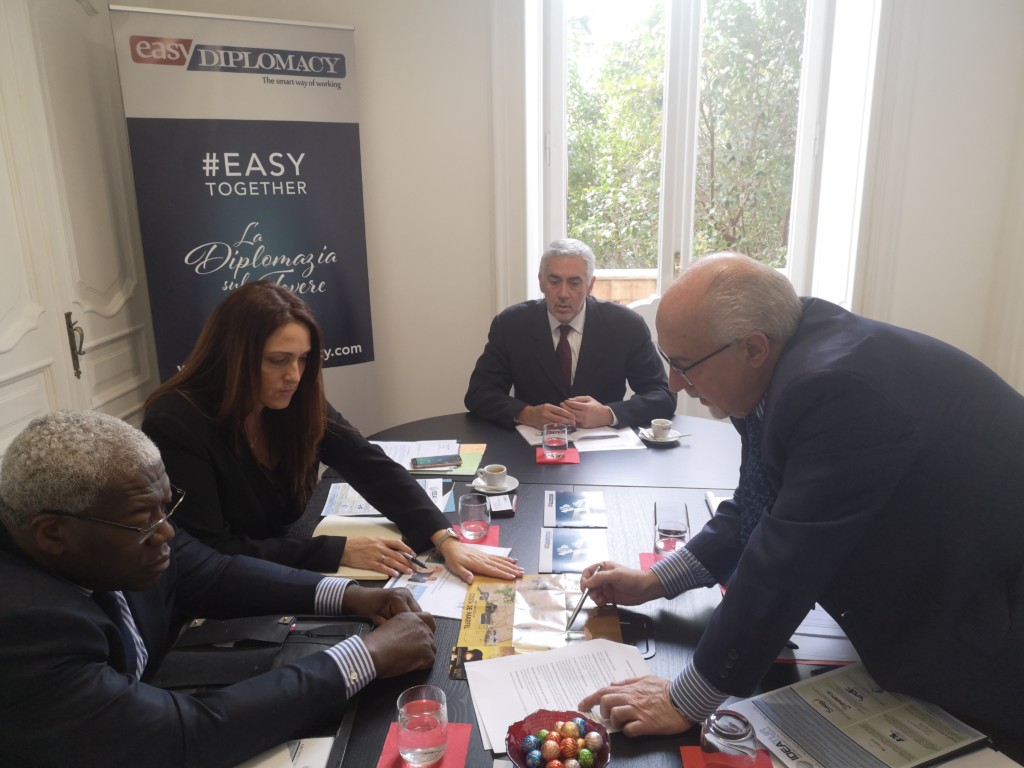 Easy Diplomacy offers the Diplomatic World an immediate and practical service. As a trusted Consultancy:
It has built a network of strictly selected providers, partners and companies, each one with specific know-how and competences;
It is able to match immediately the Diplomatic World with relevant interlocutors;
It operates as a Project Manager, Coordinator and direct link between Embassies and the various Italian and international bodies.
What do we do
We analyze in-depth the needs of the country and the objectives it intends to achieve
We develop an authentic and innovative # project detailing the goals, methods and timelines
We build the team/team of professionals who will dedicate themselves to the project
We set the communication, marketing and operational strategy
We monitor and coordinate all phases up to the final and positive outcome of the project, supporting the Embassy / Official with constant meetings and periodic reports on the progress of the activities.
The Consultants
The professionals dedicated to this service are
Eloisa Piermaria, CEO & Founder of Easy Diplomacy
Consulting, Solutions and Tailor-made Services for the Diplomatic World in Italy, born from a decennial experience at the Embassy of Austria, and whose purpose is to facilitate and optimize the work of officials as well as to help foreign countries improve their institutional, cultural and commercial relations with Italy and the Vatican in order to increase its results.
Guillermo C. Ortega (Easy Diplomacy Consultant Expert in Tourism)
International manager specializing in tourism and religion with long experience in several countries in America and Europe. Formerly a diplomat at the Mexican Embassy to the Holy See, Guillermo actively collaborates with Easy Diplomacy for consultancy services to the Embassies for the promotion of culture, tourism, and for internationalization.
Some of our success stories
Easy Diplomacy is currently assisting the following countries with specific needs for tourism promotion and internationalization projects: Ivory Coast, Qatar, Dominican Republic, Spain, Mexico.
For the past 8 years, he has worked as a developer of country promotion events for culture and tourism, including Turkey, Costa Rica, Indonesia, El Salvador, Croatia, Slovenia.
Do you want to implement an effective project for your country and achieve concrete and satisfactory results? Trust us. We will follow you step by step until the conclusion and success of each initiative. Contact us for a first consultation!