Do you want to buy a prestigious house in Rome?
Buying a prestigious house in Rome is a dream for many foreigners. Anyone falls in love with the Eternal City and property investment in Rome is always a good deal.
However, there are many factors to consider when buying a house, especially if you are a foreigner. Tax and bureaucracy come into play and finding your way around them can be extremely difficult as well as finding a real estate agent fluent in English.
Three are the most frequent questions we are asked by foreigners who decide to buy a house in Rome:
which areas are the most requested
how much does a real estate agency cost
which documents are needed to buy a house in Italy
We answer you shortly.
Which areas are the most requested for prestigious properties in Rome?
For those who love the views over the red roofs of the Eternal City and do not need parking, the ideal areas are Piazza di Spagna, Piazza del Popolo, Campo dei Fiori, Piazza Barberini, San Pietro and Borgo Pio. Here are the many symbolic places of the city, stores and boutiques are at your fingertips and public transport is widely available.
The other prestigious districts of Rome are Parioli, Pinciano, Prati, Quartiere Trieste, Aventino and Terme di Caracalla. These are the neighbourhoods of the Roman bourgeoisie, where you can find historical buildings and exclusive villas, luxury apartments and penthouses.
If instead, you are looking for a green and quiet residence, then the best areas on the outskirts of Rome are the villas located in Camilluccia, Cassia, as well as Olgiata, Grottarossa or Appia Antica. Surrounded by green areas, with a swimming pool, and ideally close to international schools for their children. It is no coincidence that most Diplomats with families, and foreigners in general, live in these areas.
How much does a real estate agency cost?
If the buyer has not already gained extensive experience in buying and investing in properties in Rome, it is essential to choose a professional, especially if you are a foreigner, to make a good deal and prevent difficulties. Finding your way around the big city and the Italian bureaucracy can be extremely difficult and demotivating.
In order to sign the deed and purchase the property in Italy, the foreign citizen must have a tax code issued by the Italian Revenue Agency. The tax code is mandatory for everyone: Italians, EU or non-EU nationals.
A Trustworthy Agent, highly fluent in English, will accompany you through the entire buying process, which starts from selecting and identifying the property of your dreams, and also includes a whole series of bureaucratic formalities necessary to successfully finalize the deal.
In addition, a good real estate Consultant will carefully explain and clearly show the market value of the purchase price for the type of property and the area of your interest.
A professional assignment can last between 6 and 12 months on average.
Obviously, some deals may take longer, but we can say that a good agent can make you buy the property realistically within a few months. During this time, he will activate all his channels for careful analysis and research.
The assignment includes a commission ranging between 3% and 4% of the property's purchase price. The commission applies only in case of a successful closing of the deal.
Why entrust EDRE with your home search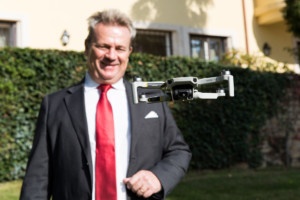 EDRE offers both brokerage and property consultancy and has always served international and high-profile clients. As the sister company of Easy Diplomacy, EDRE has a long experience with the Diplomatic and International World for the purchase, sale and rental of prestigious properties in Rome. This makes it reliable and able to operate with the greatest professionalism and discretion required.
Alessandro Ghirelli is the Real Estate Manager in charge of EDRE, with ten-year experience dedicated to the real property brokerage of prestigious assets. Italian native speaker, fluent in English and Swedish.
Our office is in via Donatello 79, on the Lungotevere Flaminio, a few steps away from the most prestigious areas of Rome.
>>> Are you looking for a house for rent? Click here