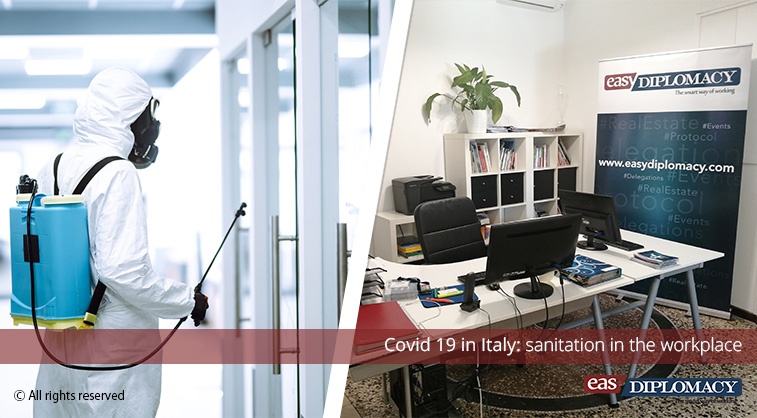 Sanitation and disinfection in the workplace have proven to be key elements for safety since they prevent risks of contamination and infection. This is true especially in the case of offices, where spaces such as the kitchen and restrooms are shared, and more than one employee may work in the same room.
What exactly is meant by sanitation and disinfection? Does the process really eliminate COVID-19?
Is a sanitation and disinfection treatment mandatory? How many times does it have to be repeated?
What to do after the environment has been sanitized?
The ISS (Italian National Institute of Health) declares that the transmission of virus infections, including SARS-CoV-2, is spread through close contact between people indoors, or through contact with contaminated objects and surfaces.
Studies have shown that Coronaviruses, including those responsible for SARS and MERS, can persist a few days on inanimate surfaces in optimal humidity and temperature conditions.
Authorities have identified periodical environmental sanitation and disinfection treatment as one of the most effective measures to contain and prevent the spread of Coronavirus in the workplace.
How does the environmental sanitation against viruses' work?
A virucide disinfectant is distributed in the environment and premises to be treated via spraying or nebulization, paying particular attention to all contact surfaces. The treatment is administered when nobody is on the premises.
The specific product works when in contact with the surface, and it must be left on the surface until dry.
Which sanitation and disinfection treatment is the most suitable for me?
Firstly, let us remind ourselves that we are facing an unknown and very aggressive virus, there are no previous experiences with it. Therefore, all the questions you want to ask about sanitation and disinfecting are the right ones. At the same time, please note that fortunately there are answers to each of your questions.
Are you receiving many offers for sanitation and disinfection, through ozone or specific products, and wondering which is the right one?  Does the treatment damage electronic equipment? Who is authorized to provide sanitation and disinfection treatments?
What are the criteria to make a quotation and organize the treatment? How will you have to behave in the office after the first treatment is administered?
And there is more… How to manage the sanitation and disinfection of large premises? Is there a specific treatment for books, and particularly old books? Do gardens have to be sanitized? Is it possible to sanitize only one floor of a multi-storey building? Can sanitation be included among the required security measures which need to be enforced by an employer in order to prevent contagion?
>>> There is no one-size-fits-all treatment, it has to be Tailor-made. Each process has to be studied depending on the environment, the number of people working in it, and the use they make of each area.
Then… Who can I trust?!
Easy Diplomacy has built its reliability and profession out of a service based on understanding needs, correct and transparent information, and customer care. We have always selected the suppliers and experts that we consider the most adequate for the needs, issues and wishes of each client. We customize the service by assisting the client throughout the process. Today we keep doing the job that we have always done, to learn – together – how to face COVID-19, to know it instead of fearing it, to manage it, and to take control over our life and business again as soon as possible.
Our contribution to overcome sector emergencies starts with health protection.
Sanitation and disinfection in the workplace, therefore, are highly recommended by Easy Diplomacy if possible before reopening the office. However, it is important to stress that Occupational Health and Safety are not limited to technical intervention, but they start with the knowledge and implementation of correct behavioural safeguards at the workplace and through simple but important measures. Sharing correct information in advance and on a constant basis allows the staff to go back to their office with greater peace of mind and guarantees proper safety to everybody.
Call us for sanitation and disinfection of your office, we can give you orientation!