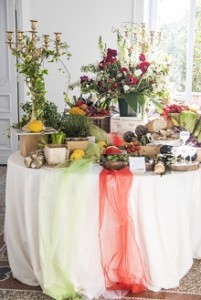 Rome, 29/04/2019
Did you notice that the various catering services offer Embassies always the same set-ups and formats, without conveying the real tradition of the country? How important is tradition to strengthen relations and communicate a message, in the Diplomatic World?
We talked about it at the latest #EasyTogether on April 18th, A journey to discover Italian style at the table, organized by Easy Diplomacy at the new headquarters in via Donatello, Rome.
The 'Table' as a place where different people and cultures come together, by means of a crescendo of emotions and experience. From the food featuring simple and elegant taste and genuine ingredients, to the setting conceived as a frame and a means to highlight the chefs' creations and traditional specialties.
Easy Diplomacy noticed that diplomatic receptions often had to adapt to a standard service format that tends to standardise and miss out the nuances of a rich and extremely specific content. For this reason, Easy Diplomacy wanted to show a more effective way to organize events and engage in diplomacy.
Value of set-up
This time, #EasyTogether particularly focused on the setting-up. Each office was turned into a hall, customized with one out of 3 set ups and styles especially designed by Easy Diplomacy for the Diplomatic World: Smart, Classic and Top. From satin, linen or cotton napkins, to glass or silver furnishings. From organza curtains in the colours of the national flag, to sumptuous fresh seasonal floral compositions that naturally perfume the halls. A symphony of fine elements, designed and prepared to satisfy any taste and to show how to give value and emphasis to both an event and a nation's culture.
This was the real event concept, symbolically presented on this occasion through the Italian food and wine tradition, and customizable for any country with its national colors and cuisine. This was the real emotion embodied by #EasyTogether on April 18th, like a fashion show where the artist's most beautiful creations are shown. The objective was not only to present a collection, but also to provide a new point of view that is out of the ordinary.
Thus, each time, depending on the country and the event, Easy Diplomacy finds the most appropriate catering service, creates a tailored set up, takes care of details and pays extraordinary attention to the service as a whole, because it knows that the service provided may become, for Diplomats and Embassies, an exceptional tool to reach their objectives, from promoting their culture, to strengthening relations. 
Consultancy
Easy Diplomacy studies each country's particular features and traditions and analyses the variety of the Diplomatic Corps' needs, to suggest customized Solutions. It is a careful and meticulous work requiring competence and passion, of course. There is no room for improvisation or inaccuracy.
The Consultant dedicated to this service is Ms. Eloisa Piermaria herself, who has acquired 20 years of experience in the field: 10 in the Diplomatic World and 10 in training. She will be able to provide multilingual support to carry out your project for a successful event.
Since in most cases the best practice is to know and understand who you are dealing with to decide if you can trust us, Call us to fix an appointment and talk with us.
They say about us
"Last February the Embassy of Slovenia organized the event "Italy and Slovenia: partnership in investment & innovation", during which, thanks to the perfect support of Easy Diplomacy, we have presented the tourism potential of Slovenia. The professional approach and the excellent organization of Eloisa's Team have for sure brought an added value to our presentation, which took place in a fantastic historical venue in the hearth of Rome" . Slobodan Sesum, Commercial Counsellor, Embassy of Slovenia in Italy.

"They have managed for us several events and we have been always satisfied and the events successful. Eloisa and Easy Diplomacy are our problem solver. They take care of all details with professionalism, making our job easier". Carolina Gunski, First Secretary, Embassy of Argentina in Italy.

"Reliability, competence, professionalism. We can always relie on Easy Diplomacy!" Flaminia Coletti, Ambassador's Assistant, Embassy of Corea to the Holy See.
#EasyTogether…
#EasyTogether on April 18th was dedicated to a selected number of event managers registered on our portal, and the most active members in our network: in this case, members of administrative offices and secretariats of some of the embassies with which Easy Diplomacy collaborates more frequently. Everything surrounded, as usual, by smiles, interest in meeting, sharing and acquiring new working tools, and good and useful networking for those who face great responsibilities every day and often have to manage complex and varied tasks on their own.
#EasyTogether is all this and even more… Find out more and take part in the next one!
 Eloisa Piermaria