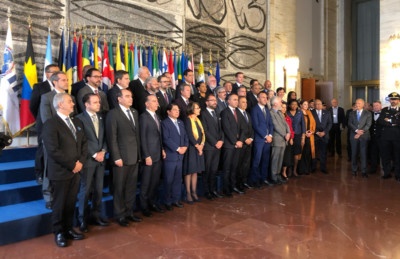 Rome, 10/10/19
The IX Italy-Latin America and Caribbean Conference for a #Tailored Service
How to manage smoothly the arrival, transfer and stay of 30 foreign delegations?
How to guarantee the correct provision of services and necessary support for a successful Conference?
How to customize the service?
We are pleased to share our experience with the IILA (Italo-Latin American Institute), in the framework of the IX Conference "Together for a sustainable growth" held on October 10th at the Ministry for Foreign Affairs and International Cooperation.
The conference, opened by the Minister for Foreign Affairs Di Maio and the IILA President, Ambassador of Paraguay Melagarejo, saw the wide participation of Ministers, Vice Ministers and Senior Government Officials from the Latin American and Caribbean region. They joined to find common policies for fighting against transnational crime and promoting new highly innovative initiatives, with a special focus on the Green Economy.
How to manage the logistics of an ever-changing programme
The IILA, as an International Organization, had two primary needs: to manage the logistics and coordinate the programme of numerous delegations from different countries, and to provide a service in line with the core content of the conference on the event day. With that purpose in mind, the service had to be not only professional but also
flexible, in order to meet the needs of individuals and groups
customizable, in line with the golden thread concept of sustainable growth.
Consultancy
Easy Diplomacy's main effort was focused on planning all services well in advance, to ensure that the Delegation's programme ran smoothly and securely, from the hotels to the means of transport. The Delegates' extremely variable arrival and departure dates, subject to constant change, imposed a flexible cancellation policy on all suppliers of the main services and continuous mediation.
Everything was taken care of and coordinated by Easy Diplomacy with a dedicated Contact Person who provided multilingual assistance to the IILA and the Embassies involved, through each stage of logistics.
The core content of the conference, on the other hand, inspired us to provide an environmentally sustainable service. We consistently supplied biodegradable and strictly plastic-free materials, for both the set-up and the printed and disposable materials, and we added vegan and vegetarian dishes to the menu.
As usual, the whole Easy Diplomacy Team got down to business, to be prepared to deal early with any unforeseen event. The significant experience enriched our knowledge of the needs of the Diplomatic and Institutional World and gave us all a number of insights into how to further perfect our service.
We would like to extend our heartfelt thanks to the IILA for the opportunity, trust and collaboration.
Do you have an important delegation arriving or a big event to organize?
Contact our Team for a free Consultancy.
Photogallery of the event