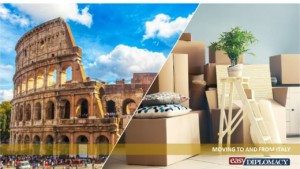 Rome, July 2nd 2020
How can Diplomats move to and from Italy in the midst of Coronavirus?
Since the reopening of borders, Diplomats have resumed to travel thus need safe moving services, especially in the midst of the Coronavirus emergency.
Moving companies, in fact, are required to operate in maximum safety and need to be equipped with previously sanitized devices and  for the protection of workers in compliance with all obligations provided by the Regions within which the move is carried out.
Furthermore, moving companies are currently forced to manage the Coronavirus  with restrictions on flights and circulation  of goods. The issue of flights is extremely delicate: such reduction within certain routes is extremely damaging therefore inevitably, affecting also the final economic offer.
Thus the 3 requirements that a removal company must be able to fulfil  at the time of coronavirus:
Security
Reliability
Best value on the market
Easy Diplomacy has selected professional and reliable trusted companies that ensure adequate safety standards, make use of the latest  software adequate for  fast inventories, which may be carried out remotely as well along with being in constant contact with our Team for periodic updates on the current situation.