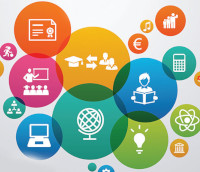 Rome, 28/08/2018
Upon arriving in a country like Italy, and even more so in a fascinating but often hard-to-navigate city like Rome, diplomatic officials may need an adequate and tailor-made orientation in many respects, and among them – a very important one – that of children's education and the selection of the best foreign school. The Italian school system is based on the right-duty to education for all students, both Italian and foreign, and allows access to different types of school and training. The educational landscape is constantly changing, and choosing the right school can be tricky, especially for those who are not yet familiar with Italy and its bureaucracy.
For its crucial influence on the whole life of a person, education is a critical matter for every parent willing to provide their children with the best available tool to live a meaningful life. And if finding the best schools is hard work for everybody, it is even more challenging for families of diplomats, involved in frequent relocations to countries of different cultures, beliefs, lifestyles.
Looking for international schools is surely the best solution: while letting students get to know, live and socialise with other children of all nationalities, international schools also let them learn in global and local contexts. Such is the main objective, for instance, of the International Baccalaureate Programme (IB), which is internationally recognised by the best universities in the world for its exceptional teaching method, and it is provided by the best international schools. 
Students pursuing the IB are nurtured and encouraged towards their natural inclinations, learn different languages and, starting from the earliest years, become able to engage with people in an increasingly globalised and rapidly changing world.
Also, within the IB programme, the regular academic disciplines are joined by compulsory non-academic experiences, such as sports, plays, charity events and more, which improve relationships with other students, families and teachers and help develop important extra-curricular skills.
Such an educational path is, in the end, both academically challenging and individually rewarding, and it is the best one leading to the most prestigious universities.
An international education aim is to create better individuals and, ultimately, a better society of people respecting and understanding each other while cooperatively working to improve the world for present and future generations. Living and studying in an international environment lets children of all nationalities explore, respect and accept each other's heritage: it is a way to widen understanding, tolerance and, in the end, peace all over the world.
Easy Diplomacy offers an in depth consultancy service, thanks to the collaboration with one of the most prestigious international schools in Rome, with an eye for specific needs, from the most suitable teaching method and programme to the 'diplomatic clause'. Contact us today for more information on how to ensure your children the bright future they deserve!
"Education is a human right with immense power to transform. On its foundation rest the cornerstones of freedom, democracy and sustainable human development." In memory of former UN Secretary General Kofi Annan, who sadly passed away recently.
The Easy Diplomacy Team