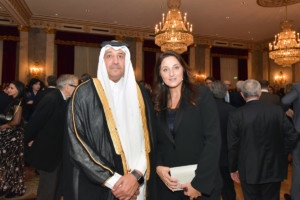 Rome, 10/12/2019
The collaboration with the Ambassador of Qatar in Italy H.E. Abdulaziz Bin Ahmed Al-Malki Al-Jehani, on the occasion of the organization of the National Day, celebrated in the halls of the Hotel Excelsior in Rome. An event that this year saw the participation of a thousand illustrious guests.
A Qatar that, as pointed out by the Ambassador in his speech, has consolidated and strongly expanded cooperation and strategic relations with Italy: "We are happy to have inaugurated a Consulate in the city of Milan and a Military Attaché in the city of Rome. We are satisfied with the progress of our investments in Sardinia and above all, we are proud of the Mater Olbia hospital project and the re-launch of the Air Italy airline that will work in Italy and abroad. We also positively judge our investments in tourism in the cities of Rome, Florence, Venice, especially in the hotel sector, and the Porta Nuova project in Milan. The volume of trade exchange between the State of Qatar and the Italian Republic has reached record levels in the last three years."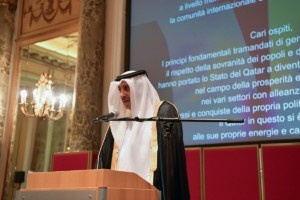 An important content, therefore, that had to be conveyed effectively to capture the attention and listening of such a wide audience.
Easy Diplomacy worked to find the most appropriate means to convey the message of His Excellency and used them efficiently. We aimed at the famous wow effect when something creates wonder and leaves us literally speechless with wonder. Something that surprises us to such an extent that it remains etched in our mind forever. Creating a wow effect is neither simple nor obvious. Customer expectations are always very high, but overcoming them and even surprising them is a challenge that is worth facing.
Obviously, an excellent planning and a strong dose of creativity must never be missing, which in this important event has found maximum expression in advanced digital technology and in the scenographic celebratory cake.
Thanks to all this, on that stage, in those few important minutes of his speech, the Ambassador was able to enjoy the absolute attention of his guests, managing to effectively communicate everyone's message, both to Arabic-speaking guests and to Italian speaking guests.
That evening the Qatari flag waved proudly everywhere.
Photogallery of the event