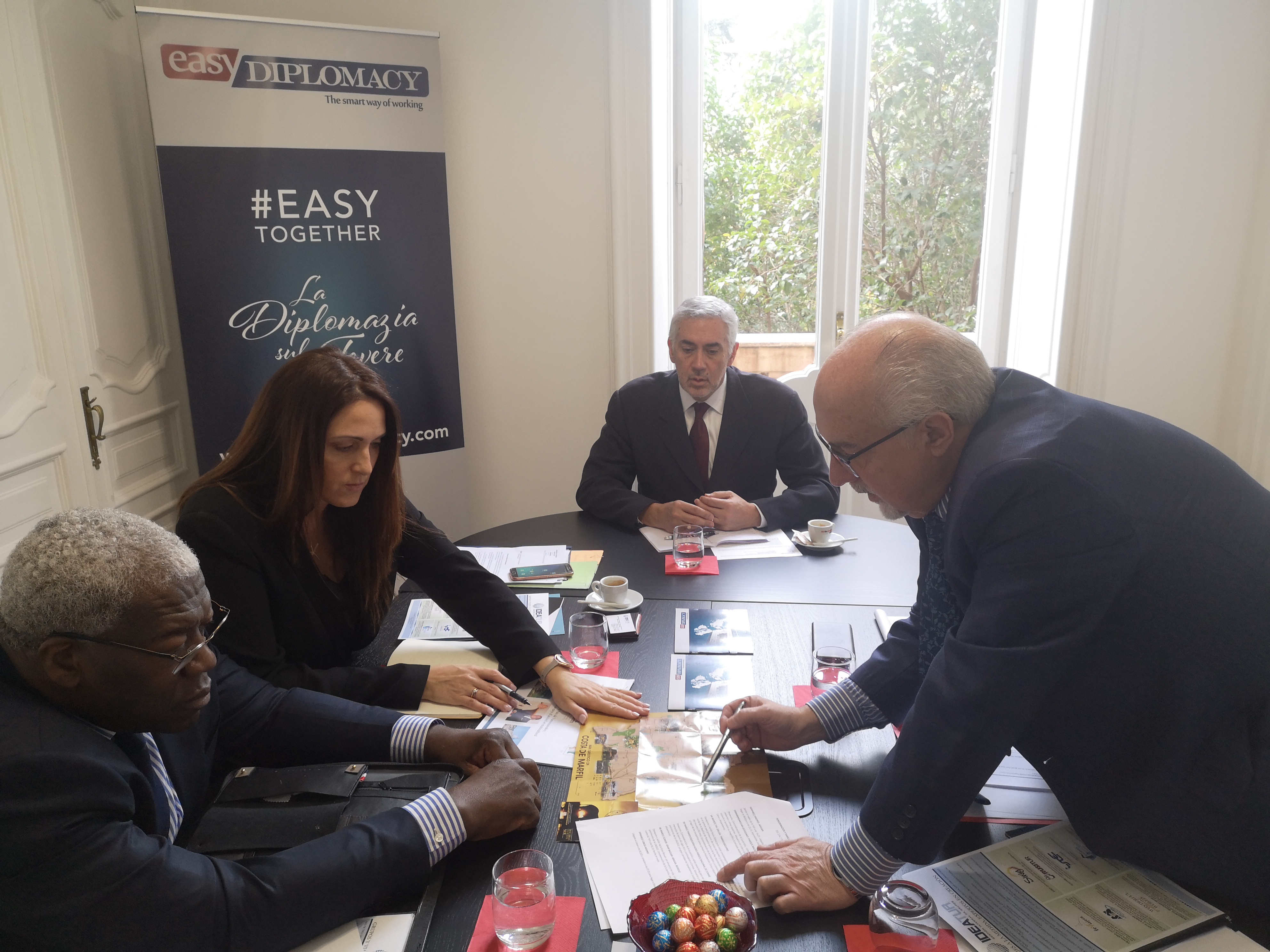 Rome, 21/12/2020
Easy Diplomacy adapts its Mission to the times and sets itself ambitious objectives as Diplomatic & Business Network.
Same spirit for more targeted and incisive actions with the aim of providing support and effective guidance for Diplomacy.
2020 marked a turning point in the history of humanity. Many things have already changed and others will soon transform society, politics and economy. Consequently, the priorities of the Diplomatic World will also need to be updated.
In recent months, new urgent needs have arisen that require practical, quick, and perhaps risky but necessary solutions.
We should all be very good at learning as much as possible from 2020, the year of Covid-19 and the too many emergencies it has generated.
This is why in recent months we at Easy Diplomacy have worked hard to study and understand how to offer ever better and necessary services in the "new future" of the world.
The urgency has arisen to get out of the economic crisis and restart at all levels. Each of us is called to act immediately by making necessary and courageous choices. We too have made ours.
 We have calibrated the services essentially on three areas:
Consultancy 

Real Estate 

Ceremonial 
Consulting and Project Management
In order to be even more a valid support for the Diplomatic World, we wanted to broaden the horizons of our field of action and look further.
Easy Diplomacy, therefore, will provide complete Consultancy, detailed planning and then be transformed into an operational arm and incubator, realizing the planned strategies and providing the services necessary for the specific goals.
The consultancy service can be occasional, short term, continuous or on a project basis.
The areas on which we will specialize will be internationalization projects with a focus on Tourism and territorial marketing plans, country image promotion and communication: events, press office, web.
To these areas will be added specific consultancy for Real Estate sales for foreign countries and needs relating to Ceremonial.
 It will also be possible to develop collaborative relationships with the Embassies to have ongoing assistance (in language) for the research and processing of the budget estimates necessary for the purchase of services. 
Prestigious properties for Diplomats, Embassies and Consulates in Italy
The properties that diplomats usually look for – both for their own residences and for institutional uses – must have precise characteristics. Finding the right property often means investing a lot of time and money for results that are not always satisfactory.
Easy Diplomacy has decided to focus on this specific Service by managing databases of prestigious properties and building its own – often exclusive – portfolio of proposals.
Whether it is a purchase or a rental, we always have the right answer as we also offer specialized legal and notary advice throughout the negotiation phase between the foreign entity and the owner of the property. 
Know the Ceremonial to engage in constructive dialogues
Today more than ever, dialogue between diplomacy is the base for being able to restart and achieve important results. Knowing the different ceremonials means being able to tune in and communicate with the interlocutor.
We also believe it is a priority to translate the classic ceremonial into new media and social platforms to initiate cutting-edge digital dialogues.
The aim of the Courses is to support Embassies, Consulates, Companies, Associations and the Public Administration in the management of social and work relations, staff training, representative and high-profile events.
The courses for individuals and groups are now active, and our consultancy for special events or projects at the national and international level. Vatican and military ceremonies are also active. We have selected teachers of excellence and high institutional extraction. 
Events require courage and challenging choices.
We are ready for new international challenges.