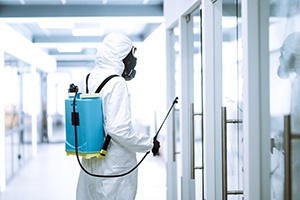 Rome, 28/04/2020
According to the World Health Organization, the COVID19 virus can remain active on surfaces for several hours to several days. It is therefore essential to secure the workplace from residual COVID19 in accordance with WHO guidelines and make the premises free of risk of contamination.
Aware to face this health emergency, Easy Diplomacy has activated a professional, simple and effective service, by providing trusted and specialised companies for the sanitation treatment in Offices and Residences aimed to eliminate viruses and bacteria inside all the premises.
It is important to highlight that health protection does not only imply technical interventions but starts from the knowledge and application of the right behavioral rules in the workplace. A preventive and constant disclosure of the correct information allows to return to the office with more serenity and guarantees greater safety for everyone.