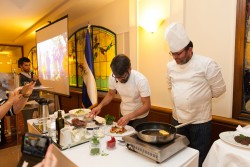 Milan, 12th October 2017: TASTE OF E SALVADOR, show cooking and tasting with the best of the Salvadorian food.
The Embassy of El Salvador in Italy in synergy with Easy Diplomacy has realized a 'gourmet' manifestation which gave the opportunity to taste specialties made with local ingredients such as honey, coffee and corns. The guest of honour was the international Chef Juan Salomón Miguel.
The Taste of El Salvador with its typical products took place at the Starhotels Business Palace.
The Chef, well-known for his cooking programs ("The recipe of the chef" on  TV e "Laser Gourmet" on radio) was chosen as Ambassador of agro-food products of El Salvador by the Direction of the Foreign Affairs and by the Councils of Economic, Trade and Tourism of the Government of El Salvador. He also worked as food consultant for the Export  Promotion Program of the United States Agency for International Development (USAID) in El Salvador.
In Milan the chef has presented different typical courses using the products offered by Salvadorian Companies.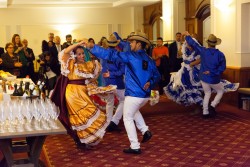 Starting from the fried corn on the cob with pasta fettuccine and white sauce realized with the corn "tamales" of the Crio Inversiones, to the salted beans with sausages and legumes produced by Arrocera San Francisco.  But also the chicken with mixed species, the Wafles with whipped cream and mangoes honey supplied by VAPE. Yet to conclude the show with a delicious coffee and mascarpone mousse realized with a mixture of Llach Café and the Agroindustrias Moreno.
The event was also an opportunity for companies interested in importing the excellences of the taste of El Salvador in Italy. Obviously the colours, the music and smiles of the Salvadorian culture could not miss!
Read more