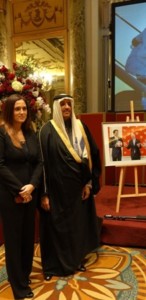 Rome, 17/12/2018: on December 12th, the Ambassador of Qatar to Italy, H.E. Abdulaziz Bin Ahmed Al-Malki Al-Jehani, organized a prestigious reception in the halls of the Excelsior Hotel in Rome, to celebrate Qatar National Day. The event was attended by around 1,000 of the highest Representatives.
Easy Diplomacy was directly appointed by His Excellency to organize the moment of highest visibility – the speech. The Ambassador's need and desire was for the public to see and listen to him attentively. The Head of Mission pronounced important words indeed: he highlighted the steady growth and development of Qatar's economy and the closer relations with Italy. On May 1st, for instance, Qatar's Defence Attaché Office opened in Rome.
On that specific occasion, Easy Diplomacy designed and set up the 'stage' where the Ambassador stood to deliver his official speech: from the audio and video system projecting contents during the key moments of the soirée, to the extremely refined floral frame with the colours of Qatar's flag, up to the customized celebratory cake, for the much anticipated joint cutting of the cake with the most distinguished guests.
The preparation of the precious and most significant moments of the soirée was coordinated in synergy with the Embassy's personnel. Each minute of the event's programme was meticulously planned, therefore the soirée went on smoothly from the welcome address to the final dinner.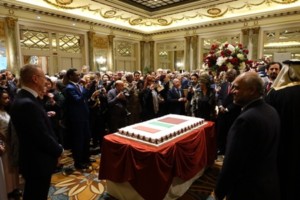 The effort made by professional experts for entire days made a real difference during the few hours when the event took place, leading to the client's full satisfaction, and consequently ours too.
This is our job – giving clients what they need and customizing our service as a tailor-made suit. As for event planning, Easy Diplomacy's badge blends with creativity and attention to details for a broader international outreach. That is why details, above all, are essential for us, for guests to understand the attention and special care dedicated to designing the whole project.
What are the ingredients in our recipe for success? Field experience and precise knowledge of the Diplomatic World, wide network of providers and professional partners selected nationwide, and finally a lot of passion for our job!
Eloisa Piermaria
CEO&Founder
>> See pictures of our work. Click here!
>>Find out more about our events