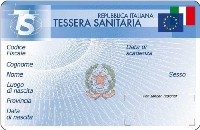 Even if they are not from a country enjoying special conditions, foreign citizens are entitled to receive healthcare in Italy, providing they are registered with the NHS. It is possible to access healthcare services through:
Compulsory registration: for foreign citizens legally living in Italy, with residence permit (or having requested its renewal) and working
Voluntary registration: for foreign citizens living legally for periods in excess of three months, but who are not working and have a residence permit for elective residence, or students or au pairs residing in Italy for periods of less than three months
Entry into country for medical treatment: registration with the NHS is permitted only for pregnant women; in other cases only the entry visa will be granted for medical treatment or transfer in Italy for humanitarian intervention.
Once registered with the NHS, the foreign citizen receives a TEAM card (Tessera Europea di Assicurazione Malattia), the European Health Insurance Card, entitling him to obtain healthcare in the same way as the inhabitants of the country he is living in.
To find out more
TEAM card
Healthcare in Italy