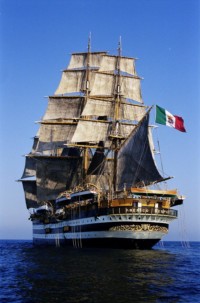 Rome, 07/03/2019: on February 22th, the Amerigo Vespucci School-Ship officially turned 88, still provoking admiration in anybody and confirming itself once again to be "the most beautiful Ship in the world" as well as the oldest ship still on duty in the Italian Navy.
The Amerigo Vespucci was built in 1930 with the task of being a school ship, an activity that lasted until the end of World War II. However, it also achieved the important role of Italian Ambassador on the sea in the context of art, culture, engineering as well as that of guardian of values and traditions of the Italian Navy. It was also the only ship in the world that was entrusted with the important task of transporting the Olympic Flame, at the Olympics games in 1960.
Every time this spectacular ship sailed around the world in any port it docked, it aroused the admiration of anyone, becoming a true Italian pride! Still today the Amerigo Vespucci, despite its "ripe age" remains a pride for our beautiful country in the world, unfolding again the sails with its historic motto "not who begins but who perseveres" the ship keeps intact its tradition in structural and executive terms.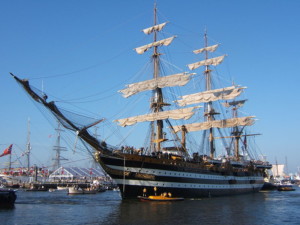 The School-Ship Amerigo Vespucci, in fact, after a long period of stopping for important modernization work, on 27 April sails again from the port of La Spezia to travel the seas by performing a naval campaign on the occasion of its anniversary.
Best wishes from Easy Diplomacy to the Italian Military Navy for this important achievement and our warmest thank for the important role this institution played for our Country!
Find out more
Watch the exciting moment when the Ship unfolds the sails, ready to be again a protagonist of the sea. Click