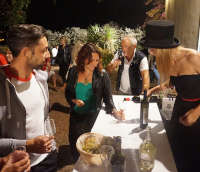 Rome, 26/06/2018
After Greece in 2017, Germany will host the 2018 edition of "Tutti giù in Cantina", a Wine Culture Festival running in Velletri (Rome) for three days, from June 29th to July 1st.
The opening ceremony, this Friday at 6pm, will see the presence of the newly elected mayor of Velletri Orlando Pocci, the President of the Lazio Region Nicola Zingaretti and, as a guest of honour, the Ambassador of the Federal Republic of Germany in Rome, H.E. Mrs. Susanne Marianne Wasum-Rainer.
The festival gathers over 200 national and international wine labels, including a prestigious tasting selection from Verband Deutscher Prädikatsweingüter, an association that brings together the best wines from Germany. Not only wine at the event, but also readings, art installations, guided tastings, workshops, live music, and, obviously, food.
There will also be charity, with an auction of original bottles in favor of Lollo10, an association supporting the families of the little patients at the Pediatric Oncology and Infantile Neurosurgery departments of Rome's "Gemelli" Hospital.
The event is sponsored by the Embassy of the Federal Republic of Germany in Rome, the Lazio Region and the Municipality of Velletri.
When: 28-29 June from 6pm to 12am, and 1 July from 11am to 12am
Where: CREA, Via della Cantina Sperimentale 1, Velletri (Roma)
Free entrance
Download the full programme
The Easy Diplomacy Team