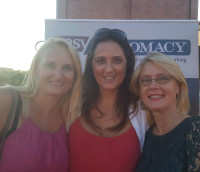 Rome, 19/07/2018
Twenty Countries represented by Embassies to the Quirinale, the Holy See and FAO, a magnificent terrace overlooking the rooftops and the millennial history of the most beautiful city in the world, and exquisite drinks to enjoy the warm sunset light: here is the recipe of yesterday's Easy Together dedicated to the administrative and secretary staff of the Diplomatic World!
Easy Diplomacy has taken the occasion to introduce its brand new agreement with the Kolbe Hotel Rome, a beautiful 4* hotel boasting a strategic position by the Palatine Hill and overlooking the roofs of the Eternal City, featuring two terraces and a neat private garden making it an excellent venue for receptions, cocktails and events of all kinds. We selected this hotel as the perfect venue to host Delegations during their Official Visits both due its position – a few steps from the FAO headquarters and the Vatican – and for its convenient structure and peculiar design.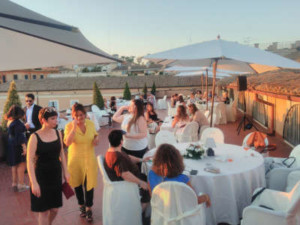 With a pleasant and informal atmosphere, the evening gave us the opportunity to meet once again (and in some cases to finally meet in person), to exchange ideas and suggestions, and to continue strengthening our collaboration with the Embassies staff. As always, our Mission is to work together and help each other, as well as always considering the importance of sharing beautiful, relaxing moments after a busy working day.
We warmly thank all those who have enthusiastically responded to our invitation for their continuous support and affection, as well as the excellent hotel staff.
Visit our Facebook page to see some pics of the evening and, if you haven't yet, do not forget to subscribe to Easy Diplomacy in order to become a member and take part to the next event!
Do not hesitate to contact us for more details about our special agreements and our Delegation services!
The Easy Diplomacy Team