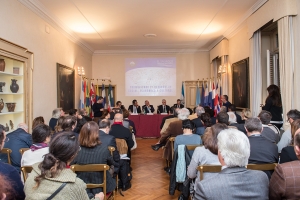 Rome, 22 November 2016:  Business and Investment opportunities in El Salvador.
Easy Diplomacy opens the cooperation with IILA (Italian- Latin American Institute) with the Business Forum promoted by the Salvadoran Government and managed by the Embassy of El Salvador in Italy.
Two meetings, one in Rome and one in Milan, to present El Salvador to Italian companies, with its opportunities and special investment facilitations.
A wide delegation of Diplomats, Chambers of Commerce and Italian businessmen, originating mainly from central Italy, have taken part to the meeting, which has been presented by:
For El Salvador:
Jaime Alfredo Miranda Flamenco, Vice Minister of Foreign Affairs and Development Cooperation
Sigfrido Reyes, President of the Promotion and Investment Agency of El Salvador (PROESA)
H.E. Sandra Elizabeth Alas Guidos, Ambassador of El Salvador in Italy
For Italy:
Pierferdinando Casini, President of the Foreign Affairs Commission of the Senate
Massimo Bellelli,  Minister of the General Directorate for Development Cooperation
For IILA:
H.E. Juan Fernando Holguín Flores, President a.i.
Ambassador Giorgio Malfatti di Monte Tretto, General Secretary
Mr. José Luis Rhi-Sausi, Secretary of Social-Economic Affairs IILA
Easy Diplomacy  increases its involvement and fosters the dialogue between the Diplomatic and the Entrepreneurs worlds with its growing Diplomatic & Business Network. This new cooperation with IILA will certainly increase the opportunities for those South American Countries who wish to attract Italian investors and promote their products to Italian buyers.
We inform all Embassies about the possibility to take advantage of our service and our network in order to improve the investment opportunities in their own country; for all companies it's an interesting channel to discover new markets.
Tuesday 22th November – 9.30 am,  IILA Via Giovanni Paisiello N. 24 – Rome
Friday November 25th – 9:30 a.m., Palazzo Affari  ai Giureconsulti – Milan
The El Salvador-Italy Business Forum aims at sharing knowledge with Italian entrepreneurs of the trade opportunities offered by the Central American Country. There is a double appointment: the first date is in Rome, on 22nd November 2016, at the IILA office in via Paisiello, while the meeting in Milan will take place on 25th November at the Palazzo Affari ai Giureconsulti located in Piazza Mercanti.
It is going to be a great occasion to tackle some issues concerning the country's Development and Training in a variety of fields, such as Industry, Trade, Training, Services, Infrastructures and Tourism. Among the advantages of investing in El Salvador there is the currency, since El Salvador has the US dollar as local currency, which offers a higher level of security to investors, eliminating the currency exchange risk.
IN SHORT
The two meetings taking place in Italy shall tackle the following topics:
ATTRACTIONS AND TAX INCENTIVES
Competitive electric power fees for the industrial and tradesector
Lowest total tax rate in the region
Significant tax exemptions for investors
Law on refund of the customs duty on exports and investments
Benefits for building projects and on Public-Private partnershisps
TRAINING AND WORKFORCE
Cost of Labour: the compensations owed by the employers and the employee benefits account for 20.67% of nominal salary
Young and qualified workforce: 58% of them are under 40 and 21% are graduated in Engineering and Technology
ENERGY
Benefits for those investing in renewable energy sources (hydro, geothermal, wind, solar and biomass)
Industries are exempted from paying customs duties on exports and investments in machinery, equipment, materials and goods for the pre-investment and investment work for building plants to generate energy
Investment Opportunities:
Tenders based on long-term contracts up to 20 years
High potential of projects for distributed energy generation
Potential of natural renewable resources
Hydroelectric: Projects for less than 20 MW: 157 MW; projects larger than 20 MW: 2,000 MW; Biomass: 50 MW; Wind: 72 MW; Geothermal: 330-400 MW; Solar Photovoltaic: 5 Kwh/m2 or 6 hours of sun
LIGHT MANUFACTURING
Platform for exports into the markets of North America, Central America and the Caribbean
Investment Opportunities:
Automobile spare parts
Medical devices
Electronic components
Shoes
The rule of origin CAFTA-RD allowed by the United States is more flexible than any other free trade treaty. The simple assembly of parts in the country provides the origin, allowing the country to assemble components produced in third countries, and trade them in the United States free of customs duties and fees
SPECIALIZED TEXTILES AND CLOTHING
Favourable tariff conditions granted by the Free Trade Treaties with the United States (CAFTA) and the European Union
Companies receive allowances and benefits for free tzones
The textile industry with all its complementary businesses is the main sector of exportations in the country, for a value of $ 109,000,000 of exports between 2015 and 2016
Investment Opportunities:
Textiles and clothing manufacturing
Production of cloths with accessories and decorations (embroideries, screen printing, applications, etc.) high performance sportswear for athletes and high added value items
Production of clothes pertaining to the category of "Simple processing": bras, children clothes, boxers, pijamas and luggages
TELEMATIC BUSINESS SERVICES
Modern and advanced local telecommunications infrastructure, granting the providing of high-quality services and a cost-effective location for the industry
Investment Opportunities:
Call center
BPO non-voice business processes
Shared Services Centers (KPOs)
TOURISM
Geographical strategic position allowing access in short time to the main cities in the American continent
Historical Heritage of the Maya Civilization
Mild climate throughout the year
Competitive price of land, low construction cots and proximity to important markets of origin of international tourists
Investment Opportunities:
Mixed-use development
Hotel: Urban, Resort, Boutique, Bed&Breakfast, Eco Lodge, Hostal
Vacation residencies
Properties with a potential for tourism
Marinas
HEALTHCARE/MEDICINE
Total tax exemption for investments in this sector is another factor fostering the offer in the field of Healthcare
Investment Opportunities:
Hospitals
Specialized Clinics
Rehabilitation Centers
Medical SPAs
Resort Hospitals for chronic diseases
INFRASTRUCTURES AND SERVICES
The World Economic Forum has rated the country's infrastructure as onw of the most competitive in Latin America and the best in Central America. At world level, it has been rated 60th out of 149 countries.
Among its strenghts there are the International Airport of El Salvador, important regional hub and center of high-level maintenance for commercial aircrafts, and the port containers terminals adequate for ships of the type Post-Panamax. The Ministry of Public Works is installing a 90-metre temporary bridge over the river Paz, enabling to cross over the border Frontera Las Chinamas, while Guatemala is restorating the El Jobo Bridge.
Among private businesses, the case history of Agrisal Hoteles is an example of successful investment. The hotels division of GrupoAgrisal has indeed recently launched its new congress center at the Crowne Plaza San Salvador Hotel, a $ 5-million-investment project.
Moreover, the director has stated that, since the construction works have started, the Crowne Plaza has created 600 direct and indirect jobs and the new team that is working on the events that will be held in the new rooms will create further 150 jobs, considering temporary and permanent ones. The Crowne Plaza currently has 273 employees. According to Agrisal, last year the hotels sector accounted for 50% of the income of the group. The expected growth at the end of this year is between 60% and 70%.
We are sure that the hotels sector market in El Salvador and in the region is dynamic and we need to be at the top rate in terms of hotel trends.
AERONAUTICS
Aeroman: Center of MRO (Maintenance, Repair and Revision)offering high quality standards in the hard maintenance of aircrafts of large commercial airlines in the United States and Latin America.
Investment Opportunities:
Maintenance Services Operations for commercial aircrafts
Maintenance operations for R44 helicopters
Spare parts and fuselage manufacture for LSA helicopters (Light Sport Aircraft)
Painting and maintenance centers for the interior of commercial aircrafts
FOOD AND AGRICULTURAL INDUSTRY
The sector is favoured by adequate climate conditions and easy access to regional and international markets.
Investment Opportunities:
Aquaculture Sector: development of the production chain through the provision of larvae, feeding and other products that grant the productivity and high quality of aquaculture products
Fruit Sector: development of complementary industries for the supply of products, equipment, vegetable high quality material and processing technology for the expansion of avocado, Persian lemon, coconut and organic product crops
Processed Food Sector: opportunity for the development of complementary industries for an ever expanding sector in areas such as: packaging, processing technology, machinery and equipment
SECURITY AND JUSTICE
To obtain significant results in the fight against crime in all its forms, Guatemala, El Salvador and Honduras decided to create a Three-National Force to improve the social context in these countries.
Embassy of El Salvador to Italy: +39 06 8076605 – embajadaroma@tiscali.it
IILA Meeting Organizer (Rome): Easy Diplomacy  //easydiplomacy.com
Press Office: Elisabetta Castiglioni +39 06 3225044 – +39 328 4112014 – info@elisabettacastiglioni.it
PROESA Video Paìs El Salvador